ACT Home Page
Ann Chambers Theis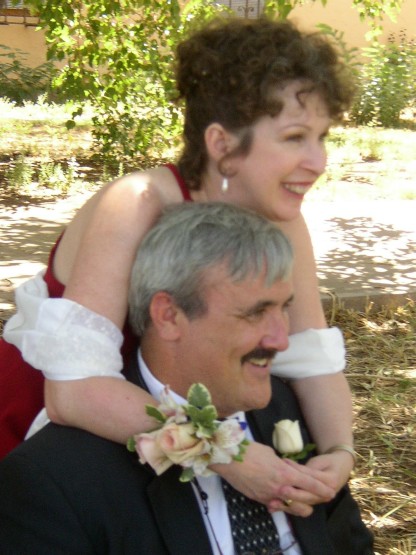 According to Mike:
"Laughs like Betty Rubble. Related to the Keebler cookie elves. Spends too much time fiddling with the
Overbooked web site.
She really believes animals lower your stress level . . ."
According to Ann:
Married Mike despite the fact that he was my first date in high school (and despite the fact that he persists with this Betty Rubble laugh stuff). I like to spend as much time as possible in or under water. Ravenous reader and book person/library person from birth. I've have been a bookie all my life. I'd hate to have to chose my favorite books, but if I were forced to pick just one it would be Alice in Wonderland by Lewis Carroll. I am an omnivorous reader and disgustingly adaptable in regards to my reading tastes. I like all kinds of books and am resigned to a life where there are "so many books and so little time."

Photo is from Carol & Bill's wedding, Sept 03.

Professional stuff:
I'm the Collection Management Administrator for the Chesterfield County Public Library and am personally responsible for selecting fiction and music for the library system. The job also involves overseeing the materials budget ($1,000,000 +) and other aspects of the library collection including cataloging and collection analysis. I work with a great team of folks at CCPL. I've been a librarian for over fifteen years and worked in bookstores for eleven years. Pretty much a bookaholic since birth . . .

I am a member of the American Library Association - PLA, RUSA and YALSA divisions, and a member of the CODES Reader's Advisory Committee. I recently served on and chaired YALSA's Alex Awards committee and served on the 2010 Printz Award Committee. I was born in Williamsburg, VA, went to college in New Mexico and library school in South Carolina. I've also lived in: Georgia, Florida, Kentucky and Ohio.

Known Associates (family, friends and assorted animals)
Photographs by Willa Chambers | Jay Lee Chambers
National Multiple Sclerosis Society
Seeing Stars
Annotated lists of books receiving at least one starred review from one of four major review sources: Booklist, Kirkus, LJ and PW.
2012 Lists