Overbooked's mission is to provide timely information about fiction (all genres) and readable nonfiction for ravenous and omnivorous readers.
Frequently Asked Questions
Ann & Nyx the eyeless library cat
Ann is the founder of Overbooked (she is the one with the glasses and the library date stamp shirt, her sister Carol is a wildlife biologist).
Nyx is a library cat. She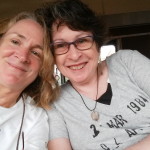 started her career as the Collection Management cat at the Chesterfield County Public Library. She currently telecomutes at the Henrico County Public Library. She was born without eyes and is a special needs cat (because she is special and we need her). Ann is Nyx's service person. Nyx has a Facebook page.